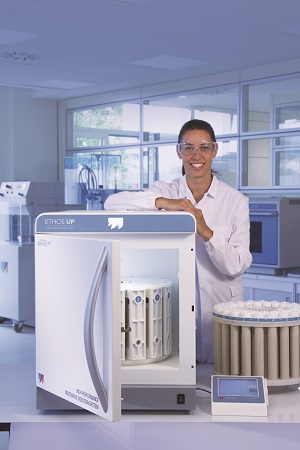 Demand for trace metals analysis in the food industry is continually growing due to stricter food regulations. ICP has been the standard for metals analysis for food, but as demand for lower levels of detection grows, the industry is experiencing a significant transition to ICPMS. This transition is placing increased emphasis on the sample preparation method.
Traditional sample preparation techniques for foods include hot block digestion, closed vessel microwave digestion, and ashing with each of them posing different challenges. The hot block technique suffers from long digestion times, airborne contamination, poor digestion quality, and poor recovery of volatile compounds. Closed vessel microwave digestion has proven to be an effective technique with fast, complete digestions, a clean environment, and full recovery of volatile compounds.
Due to variability of the food samples in term of reactivity with digestion media, analysts often must compromise on either performance or throughput. A new high throughput rotor from Milestone bridges this compromise providing the ability to digest up to 24 samples at higher pressures than with other rotors currently available.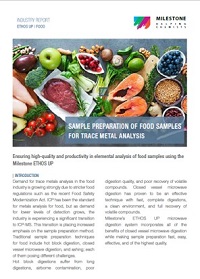 An industry report from Analytix discusses microwave enhanced acid digestion of foods with recovery data for a wide range of relevant metals. The Milestone Ethos UP microwave digestion system with the new rotor was successfully applied in digesting several food matrices, even highly reactive, ensuring superior digestion quality and reliable results. This configuration provides a complete solution for food testing laboratories and enables at the same time, and on a wide variety of matrices, the processing of high sample weights and high throughput.
In addition, microwave digestion using the Milestone ETHOS UP with easyTEMP control, provides the highest level of reproducibility and great ease of use, ensuring high quality digestion run after run.
Request a copy