LabTech water chillers
Water is one of the most precious resources yet it is still commonly used as coolant in many laboratories. Most water used as a coolant is not recycled leading to increased laboratory costs. LabTech offers a complete line of laboratory water chillers to match all applications. The state-of-the art water systems ensure accurate and constant cooling conditions for your instrumentation in the harsh environment of the laboratory.

Technology and design
Every LabTech water chiller is provided with an electronic display to monitor and control the temperature via PID technology with a stability of ± 0,1°C in most models.
The liquid circuit pressure is monitored and controlled via an analogic pressure indicator. Furthermore every system is provided with a liquid level indicator for maximum safety of operations.
Versatility and ease of use
All LabTech water chillers are provided with 4 heavy duty casters for easy transportation inside the laboratory. The unit has built in drain to easily remove the liquid from the internal reservoir.
Water connections are easily accessible on the rear of the system. Simply connect and go!
High energy efficiency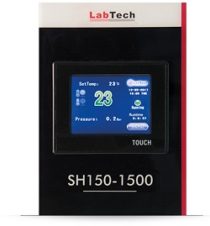 LabTech water recirculating chillers use hot gas bypass temperature control. Hot gas bypass routes the hot, uncondensed refrigerant back through a reservoir coil thus eliminating on/off cycling of compressor and the addition of energy-wasting heaters.
Accurate temperature
The PID dynamic temperature control guarantees precise and stable temperature setpoint.
High quality components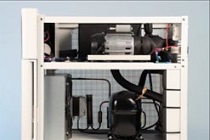 The internal components of the water chillers line have been carefully selected and intensively tested by LabTech R&D to guarantee maximum performance, reliability and a long lifetime even with 24/7 use.
In addition, LabTech has designed the 'S' chiller line to guarantee the minimum level of noise during operation, thus permitting installations directly next to the unit to be cooled.
New lightweight chiller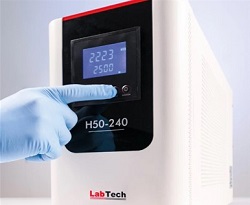 A new lightweight chiller that has excellent cooling capabilities coupled with portability and compactness does not have a compressor and employs Peltier cooling (240W at 25°C) providing a temperature range from 5°C to 35°C with an accuracy of ±0.05°C and a flow rate of 5L/min.
The chiller is extremely light with a compact footprint that allows it to be located on a laboratory bench and is an ideal solution for applications such as UV-VIS that require a portable, efficient and flexible instrument.
The bright LCD display can be seen from across the laboratory. High & low temperature and low liquid level alarms provide full safety. A flow rate of 5L/min, pressure of 0.4 bar, and a tank volume of 0.6 L, makes the H50-240 the ideal solution for UV-VIS applications and others in need of a portable, efficient and flexible instrument.
Technical specifications
Model
Temp. range °C
Temp. stability °C
Cooling capacity W
Flow L/min
H50-240
+5 ~ +35
±0.05
240
5
H50-500
-5 ~ +35
±0.3
500
3
H150-1000
+8 ~ +35
±0.1
1000
5
H150-1500NS
+8 ~ +35
±0.1
1500
5
H150-2100NS
+8 ~ +35
±0.1
2100
13
H150-3000NS
+8 ~ +35
±0.1
3000
13
H150-5000N
+8 ~ +35
±0.2
5000
13
H150-7000N
+8 ~ +35
±0.2
7000
13
H150-9000N
+8 ~ +35
±0.2
9000
13
H150-1000NLT
-20 ~ +35
±0.1
1000
5
H150-2100NLST
-20 ~ +35
±0.1
2100
13