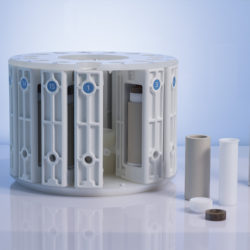 Milestone microwave rotors and sensors
Milestone offers a wide variety of rotors and vessels for all applications from digestion, synthesis, extraction, evaporation, fusion, and protein hydrolysis The vessel technology is continuously enhanced to provide analysts with the latest tools for their application. Coupled with the extensive range of rotors are the advanced reaction monitoring sensors and micro-inserts.
Digestion
Three rotors are available for digestion – SK15, MAXI44, and MAXI24HP and feature Milestone MDR technology to control the inner pressure of all vessels in complete safety. This 'vent and reseal' technology for pressure release is the foundation of Milestone's leadership in microwave digestion. All three rotors offer high quality digestion, high sample throughput and high performance. A large selection of high purity quartz and TFM inserts are available for these rotors to work with smaller sample amounts or to minimise the dilution factor of analytical solution.
SK-15 easyTEMP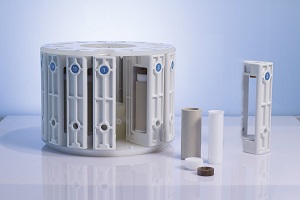 The SK-15 is a high-pressure and high-temperature rotor with a capacity of up to 15 PTFE-TFM vessels of 100 ml and is suitable for all applications. Regardless of the samples you're trying to digest, the SK-15 high-pressure rotor is always an effective option even with hard-to-digest samples, reactive samples or large sample masses.
A large selection of high purity quartz and TFM inserts is available for the SK-15 vessels for smaller sample amounts or to minimise the dilution factor.
Maxi-44 easyTEMP
The MAXI-44 is a high-throughput rotor with a capacity up to 44 PTFE-TFM vessels with a volume of 100 ml and suitable for a wide range of samples including environmental and all organics. Many laboratories routinely process high number of samples, such as soils, sediments and aqueous samples and the MAXI-44 perfectly matches these requirements, providing high productivity, reliability and superior ease of use.  The MAXI-44 is also available as a 14 place rotor.
Maxi-24HP easyTEMP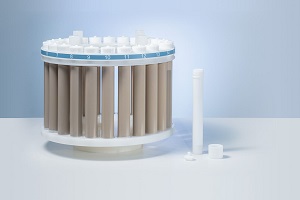 The MAXI-24 is a High Performance (HP) and high throughput rotor with a capacity up to 24 PTFE-TFM vessels with a volume of 100ml. It is designed with double pressure limits and greater capacity than other high throughput rotors and processes increased volumes of sample and a wide variety of matrices within a single rotor-based platform. Quick-assembly vessels are closed with a simple hand-tightening, improving daily productivity.
Vent and reseal technology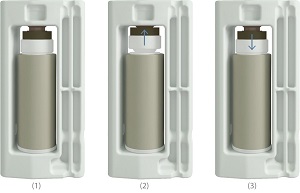 Milestone 'vent-and-reseal' vessels are the foundation of it's microwave digestion technology. This patented technology provides analysts with unsurpassed performance capabilities. While other devices use membranes or burst disks that render a vessel useless after venting, the Milestone system releases only the excess pressure from the vessels. This vessel technology is the perfect complement to the Ethos pressure-responsive door, resulting in the safest microwave system available today.
This patented (US Patent 5,270,010) technology provides the operator with unsurpassed safety and performance capabilities: highest temperature and pressure, highest safety standards, ease of use, and very fast cooling (180°C to 40°C in 10 minutes). While other systems use membranes or burst disks that render a vessel useless after venting, the Milestone system releases only the excess pressure from the vessel.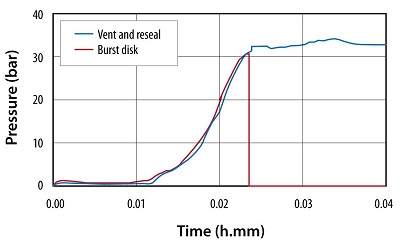 Burst disk technology method employs a simple burst disk in the cap which is designed to fail in an over pressure situation, instantly releasing all pressure in the vessel. When this happens, instantaneous boiling occurs, the sample contents are lost and the run has to be manually stopped. Significant clean up of the cavity is required and corrosion of the cavity and internal components will occur. Vent and reseal technology ensures that only excess pressure is gently released and the digestion continues to completion, with no loss of sample. This also ensures that there is no stress to the door of the microwave system.
Extraction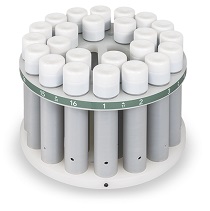 The Milestone fastEX-24 rotor allows for simultaneous extraction of 24 samples in 40 minutes with minimal solvent usage. The rotor uses disposable glass vials that eliminates the need for cleaning and the possibility of memory effect between different runs. The 100 mL vials can accommodate the extraction of a large sample amount up to 30 grams of sample with minimal solvent volume. The easy to handle and affordable cost of the vials leads to high productivity at a very low running cost. A self-regulating pressure cover assures safe operation of the system. Temperature and pressure are monitored and controlled in all vessels by non-contact sensors.  A fast easy-to-use automatic capping tool ensures all vessels are identically tightened prior to the microwave run.
Evaporation
The MMR-15 rotor is used for vacuum assisted sample drying prior digestion, and solution concentration at the end of the digestion process. The rotor has a capacity up to 15 TFM vessels of 100 ml. They are the same vessels used in the SK-15 digestion rotor so no transfer of the solution is required when performing drying and concentration. Microwave modular rotor that takes advantage of the US patent 5,447,077.
Protein hydrolysis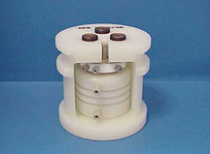 The Milestone PHK rotors offer protein hydrolysis of up to 25 samples in under 45 minutes from different sources and matrices including: meat, grain and food, pharmaceuticals, pure proteins (both natural and artificial), biological tissues, and fluids. All samples are processed at the same temperatures to assure precision of results and also in inert, anaerobic conditions to prevent oxidative degradation of amino acids.
Advanced reaction sensors
The Milestone microwave systems can be used with a variety of advanced reaction sensors, including contact-less temperature and pressure control in all vessels, and direct temperature and pressure control in a single reference vessel.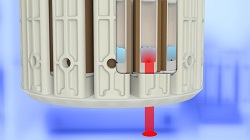 The easyTEMP contactless sensor directly monitors the temperature of all samples and solutions, providing accurate temperature feedback to ensure complete digestion in all vessels with superior safety. This technology combines the fast and accurate reading of an in-situ temperature sensor with the flexibility of an infrared sensor.
The ETHOS software provides digestion history traceability and temperature measurement for every sample. Temperature diagrams and profiles are displayed in real-time, and can be saved on the terminal.
Flexible applications
A wide range of vessels are available from Milestone to accommodate all sample preparation requirements.
| Rotor | Vessels nr. | Application | Vessel volume | Max. Temperature | Max. Pressure |
| --- | --- | --- | --- | --- | --- |
| SK-15 | 15 | Digestion | 100ml | 300°C | 100 bar |
| MAXI-14 | 14 | Digestion | 100ml | 200°C | 35 bar |
| MAXI-44 | 44 | Digestion | 100ml | 200°C | 35 bar |
| MAXI-24HP | 24 | Digestion | 80ml | 220°C | 60 bar |
| Fastex -24 | 24 | Extraction | 100ml | – | – |
| SR-12-M | 12 | Extraction/hydrolysis | 100ml | – | – |
| MMR-15 | 15 | Evaporation | 100ml | – | – |