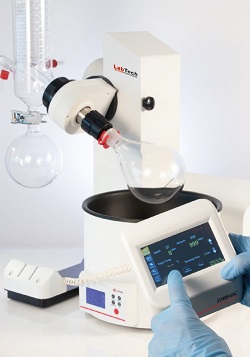 Rotary Evaporators
LabTechEV series Rotary Evaporators have multiple built-in safety features including flask autolift in the event of a power failure, bath auto shutdown in the event of low water level, and an innovative bath design to prevent corrosion and splashing.
The evaporators are available with a vertical or horizontal condenser and include colour digital display to monitor and control temperature and rotation speed from 20–300 rpm. Systems incorporate a motorised vertical lift, capability for evaporation flasks up to 3 litres, and on-line sample addition.
The separate heating bath is suitable for both water or oil and features self-calibration with a temperature range from ambient to 230°C. The digital rotation speed control and bath temperature display ensure accurate and stable system operation. Options include a range of chillers and vacuum pumps.
Features
Motorised lift in all models (except entry level model)
Wide range of glassware and flask sizes with vertical or diagonal condensor
Bath suitable for water or oil with auto off in the event of low water level
Small footprint and compact assembly
On-line sample addition capability
Multiple inbuilt safety features including flask autolift in the event of power failure
Colour display for easy control and monitoring
Bath with separate display and self calibration function
Rotary evaporator options
Chillers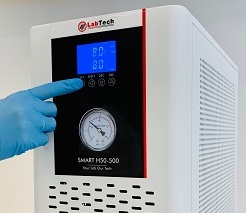 LabTech offers a complete line of laboratory water chillers to match all applications from lab bench peltier cooled systems to 9kW systems that require intensive cooling..
For the rotary evaporators the H50-500 provides the correct cooling power of 500W, a flowrate of 3L/min, and temperature range -5 ~ +35°C  with a stability of ±0.3°C that ensures reproducibility from run to run.
The LabTech chilled recirculating water systems ensure accurate and constant cooling conditions for all instrumentation in the harsh environment of the laboratory.
Vacuum controller and pumps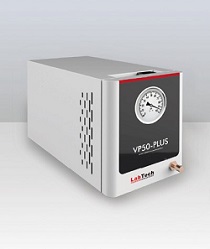 Commonly used solvents have different boiling points and vacuum evaporation levels, if the vacuum is not properly controlled, a risk of too rapid or too slow evaporation could occur reducing recovery of vapours. To optimise the complete process, a LabTech electronic vacuum controller can be used in conjunction with the pump.
A vacuum controller coupled with an oil-free pump has a control range of 0-999mbar with a precision of 1mbar and provides step vacuum control. A built-in gas release valve ensures efficient and stable vacuum control and  an alarm when the vacuum control fails to reach the desired value
Three oil and noise free vacuum pumps specifically designed for the rotary evaporators provide a comprehensive solution for a wide range of applications.