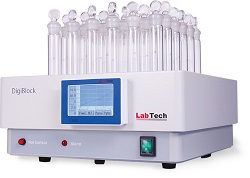 DigiBlock Digestion System
Sample preparation procedures account for approximately 85% of the time associated with atomic spectroscopy analysis. The LabTech DigiBlock can be used for the digestion of samples, evaporation of acid/solvent media, and can be used alone or in conjunction with microwave digestion systems. DigiBlock is accepted and used in many EPA Methods (e.g. 200.2, 200.7, 200.8, 200.9, 245.1, 365.1, 3010a, 3020b, 3050b, and 3060).
Features
Range of systems with sample places from 16 up to 54
Temperature from ambient to 450°C ± 1°C, uniform across the block
Minimum radiant heat loss with coated stainless steel or graphite heating surface
Individual tubes providing reduced contamination
Cost savings with use of disposable digestion tubes
Complies to EPA approved methods
Standalone or 20 step temperature programmable system with iTouch control
Innovative heater design providing energy savings of 75% over traditional hotplates
Reduced cost of sample preparation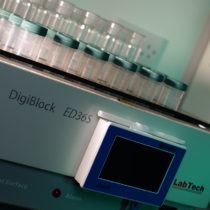 The LabTech DigiBlock can use low cost, disposable digestion tubes to speed up and simplify the digestion process. The different size digestion tubes are clean, with no detectable background contaminants and do not require washing with acids prior to use. Coupled with reduced energy costs from the DigiBlock heater design, the use of disposable tubes can help reduce laboratory sample preparation costs.