Milestone dosing and capping stations
Sample preparation is a central part of elemental analysis and includes several manual handling and time consuming steps. Reagent addition and dilution involve operator time and handling of acids that could lead to contamination, a non-reproducible process, plus operator exposure to concentrated acids. Capping vessels is a time consuming process and could possibly result in inconsistent digests. Milestone has been addressing these challenges and developed the easyFILL automated dosing station and the easyCAP capping station that ensure a superior workflow and increased safety for the operator
easyFILL automated dosing station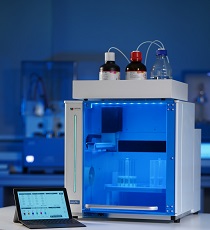 The task of manually adding reagents takes valuable operator time that limits laboratory productivity and the ability of the chemist to accomplish other tasks. EasyFILL automates these steps, reducing operator time to just a few seconds.
Additionally, easyFILL enables pre-dilution at the completion of the digestion process. Digested solutions are transferred into volumetric containers and placed into easyFILL for automatic pre-dilution. This step can be accomplished using ICP autosampler vials so that the operator only has to finalise the dilution prior to analysis.
Features
Enhanced safety with reduced concentrated acid handling and exhaust system
Reduced contamination with high purity ptfe tubing and automated cleaning
Flexible configuration to fit a suite of digestion vessels and vials
Improved laboratory efficiency with customised methods
Reduced handling time and reliable reagent dosing
Improved reproducibility of digests through automation
Accurate tracking of reagents and waste volumes
Flexibility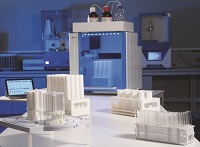 EasyFILL offers flexibility with a wide range of racks to accommodate most digestion vessels and is also compatible with ICP autosampler racks to enable pre-dilution or acidification of digested solutions at the end of the digestion process that reduces additional handling.
The system can handle up to six reagents (including HF) with a universal bottleneck adaptor for easy installation onto any acid bottle. Each rack can be swapped quickly to move from one configuration to another and has a unique design to contain acid should any spillage occur during dispensing.
Safety and hardware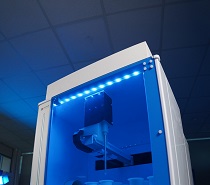 Handling of concentrated acids is a common safety concern for the laboratory. Even the use of pipettes under a fume hood could still expose the operator to acids.  EasyFILL automates these processes and avoids acid handling. The door safety sensor ensures correct closing and stops the dosing process if opened and a built-in exhaust system ensures there is no exposure to acid fumes.
The dosing compartment and all parts in contact with acid are manufactured from high purity PTFE and anticorrosive PP. An LED colour coding light in the compartment indicates the status of the dosing process.
Control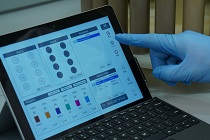 EasyFILL is controlled via a Microsoft Surface GO with customised software that has pre-stored rack configurations. For routine processes, it is possible to create a library of customised methods with the type and volume of reagents and the number of vessel positions.
The software monitors reagent levels plus waste volumes and alerts the operator if the reagents require replenishing or if the waste tank needs emptying. Automatic line rinsing is controlled by the software to avoid contamination when different reagents are dosed along with a guided procedure for calibrating the peristaltic pump.
easyCAP capping station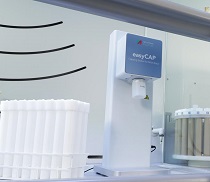 Handling a large number of digestion vessels impacts laboratory workflow and operator time. In addition, digestion quality and reproducibility relies on each vessel being closed in a consistent manner.
EasyCAP is suitable for Milestone MAXI-44 and MAXI-24HP vessels and provides the proper closure of each vessel regardless of the operator. The system has a small footprint and can be installed in a fume hood if required.
Features
Increased laboratory productivity
Greater digestion reliability
Can be installed in a fume hood if required
Compatible with Milestone MAXI vessels