Milestone microwave digestion systems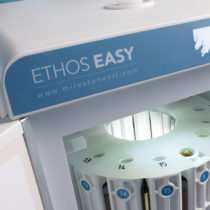 Microwave sample preparation is the technology of choice for trace and ultra-trace metals analysis. High temperature, closed vessel, acid digestion prepares samples in less time than traditional methods (minutes rather than hours), uses less acid, and retains even volatile elements. With the Milestone series of microwave digestion systems, it is possible to easily digest even the toughest organic or inorganic sample matrix, safely processing more samples in less time with superior results. The unique design and specialised accessories give the user a completely integrated system for a broad range of applications such as closed vessel digestion, open vessel digestion, fusion, and protein hydrolysis.
Are you ready for new USP 232, 233, 2232, and ICH Q3D?
A new book titled "GETTING READY FOR USP 232, 233 AND 2232 – Microwave-Assisted Sample Preparation and Determination of Elemental Impurities in Pharmaceutical Products" is available. It adopts a Q&A style for easy reading and answers questions many analysts are asking about the overall implementation of the sample preparation and subsequent analysis described in the new chapters.
The book includes an overview of the new guidelines, laboratory considerations, reagent choice, microwave technologies available, how to evaluate the efficiency of a digestion process, and general procedures for establishing an analytical procedure. The book also covers in-depth review of ICP-OES and ICP-MS techniques, and how to validate developed analytical procedures.