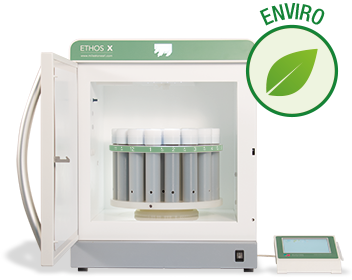 Milestone environmental sample microwave extraction system
The ETHOS X extraction system processes more samples in less time and uses a fraction of the solvent required by other technologies and follows ASTM and US EPA methods. With a cavity volume in excess of 70 litres and an installed power of 1900W, the ETHOS X is the most powerful microwave platform system available for extraction. A built-in magnetic stirrer is designed to ensure vigorous agitation of the solutions in all vessels.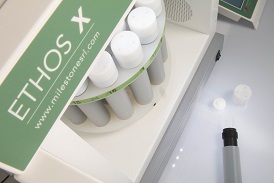 A completely new rotor has been specifically developed by Milestone for environmental sample extraction to fully accomplish the US EPA method 3546 requirements and consists of a 24-position carousel that holds large pressure vessels made of an innovative and unique inert polymer material. At the core of the vessel there is a disposable and inexpensive 100ml glass vial. A self-regulating pressure cover assures safe operation of the system. Temperature and pressure are monitored and controlled in all vessels by non-contact sensors.  A fast easy-to-use automatic capping tool ensures all vessels are identically tightened prior to the microwave run.
Features
Extract 24 samples simultaneously in 40 mins in EPA compliant 100ml disposable vials
Sample capacity up to 30g with dedicated vial cap for straight to centrifuge capability
Suitable for US EPA method 3546 and ASTM D5765-05 with reduced running costs
Weflon shields enables use of non-polar solvents with fast and homogeneous heating
US EPA method 3546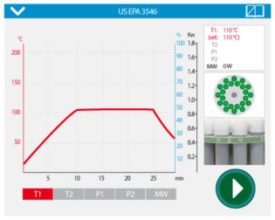 The US EPA method 3546 is a procedure for extracting water insoluble or slightly water soluble organic compounds from soils, clays, sediments, sludges, and solid wastes and uses microwave energy to produce elevated temperature and pressure conditions (100-115°C) in a closed vessel containing the sample and organic solvents. Analyte recoveries are equivalent to those obtained from Soxhlet extraction but using less solvent and taking significant less time than the Soxhlet procedure.
This method is applicable to the extraction of semivolatile organic compounds, organophosphorus pesticides, organochlorine pesticides, chlorinated herbicides, phenoxyacid herbicides, substituted phenols, PCBs, and PCDDs/PCDFs and is applicable to solid samples with small particle sizes.
Method outline
| | |
| --- | --- |
| Sample amount | 2 – 30g |
| Solvents | Acetone & Hexane (1:1) |
| Solvents volume | 25ml |
| Temperature | 100 – 115°C |
| Time at temperature | 10 – 20 minutes |
Large sample amount in disposable glass vials

When determining organic pollutants, most environmental labs aim to achieve lower detection limits. The sample preparation technique plays a very important role in this challenge. Although new extraction technologies have been developed in recent years, they have not entirely matched the needs of environmental labs. The ETHOS X with fastEX-24 rotor extracts up to 30 grams of sample with minimal solvent volume, helping analysts to accomplish their tasks. The Milestone fastEX-24 rotor uses disposable glass vials, eliminating the need for cleaning and the possibility of memory effect between different runs. The 100ml vials can accommodate the extraction of a large sample amount. The easy to handle and affordable cost of the vials leads to high productivity at a very low running cost.
Ease of use
Sample preparation – simply load the sample, add the solvent, insert the glass vial into the shield, and close the vessel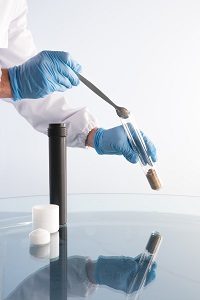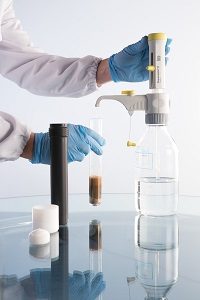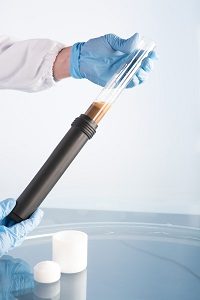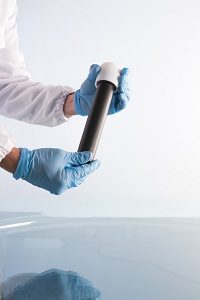 Consistency and reliability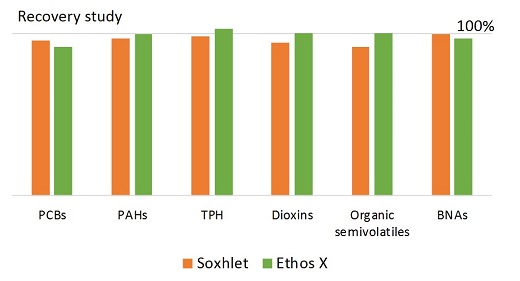 Data quality and reliability are key for environmental labs. The ETHOS X with fastEX-24 rotor provides fast, accurate and precise analysis. The unique design of the fastEX-24 rotor with its large volume disposable glass vials eliminates cross contamination and memory effect, resulting in reproducible results
Ethos X recovery study and comparison vs Soxhlet for various organic compound classes.
Productivity
The ETHOS X meets the demands for productivity required by modern environmental laboratories. While other technologies process sequentially one sample at the time thereby increasing the overall sample preparation time, the ETHOS X simultaneously processes 24 samples in 40 minutes.
Productivity based on 8 hour working shift. 24 samples requiring 40 minutes with Ethos X, 240 minutes with Sequential Pressurised Liquid Extraction, and multiple hours with Soxhlet.
User Interface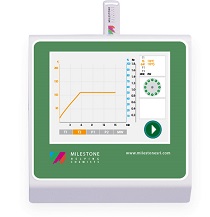 The ETHOS X is controlled via new compact terminals with an easy-to-read, bright, full-colour, touchscreen display. The terminals run a completely new user-friendly, icon-driven, multi-language software to provide easy control of the microwave run. US EPA methods are already preloaded, simply recall a stored method or create a new one, press 'START' and the system will automatically follow the user defined temperature utilising a sophisticated PID algorithm. There is no need to input the number of samples or weights being extracted, as the software will automatically regulate the microwave power accordingly. This assures a consistent quality of extraction and simplifies the use of the instrument.