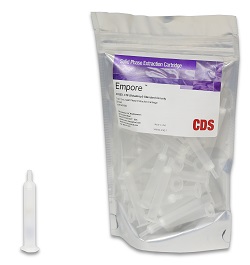 Empore solid phase extraction cartridges
Empore Solid Phase Extraction (SPE) cartridges provide efficient sample pretreatment to remove or minimise sample matrix and other interferences to clean-up a sample prior to analysis. The cartridges incorporate a range of sorbent particles with PTFE to create a mechanically stable sorbent disk secured in a syringe barrel. The cartridges are an innovative alternative to packed column technology. The dense particle packing and uniform distribution within the disk offers outstanding sample preparation efficiency and reproducibility of results. Since the diffusion distance between particles is minimised, adsorption is more efficient, and extraction can be accomplished using low sorbent mass.
Features
High recovery providing superior clean-up
Reproducible results cartridge-to-cartridge
A range of sorbents provide selectivity and retention
High retention of a wide range of analytes
Reduced time or possible elimination of eluate evaporation
Cartridge technology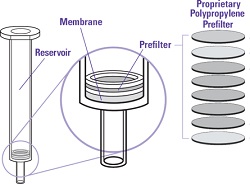 An Empore extraction disk is secured in place at the bottom of each cartridge with a sealing ring and a proprietary prefilter is placed above the disk. This prefilter aids in preventing particulates and macromolecules from reaching the underlying membrane and improves the flow of biological samples, such as serum and plasma, through the cartridge. Empore membranes efficiently extract samples with no channelling. The small bed volume allows compound elution from Empore cartridges in as little as 100-200µl of mobile phase or mobile phase compatible solutions.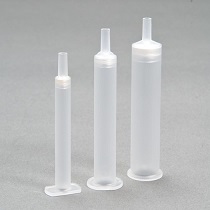 The Standard density (SD) membranes for all silica based sorbent chemistries allow reliable sample preparation for challenging sample matrices and has been optimised for improved flow rates for samples processed in most bioanalytical applications.
The high density (HD) membrane is effective for minimal elution volumes and designed for maximum extraction efficiency with minimal elution volumes of samples that have less matrix interference.
Cartridges are available as 1, 3, and 6ml with a range of sorbents including C8, C18, and SDB-XC.
Applications
Extraction of herbicides in water samples using Empore SDB-XC cartridge Download
Extraction of THC metabolites in urine using Empore C18 cartridge Download