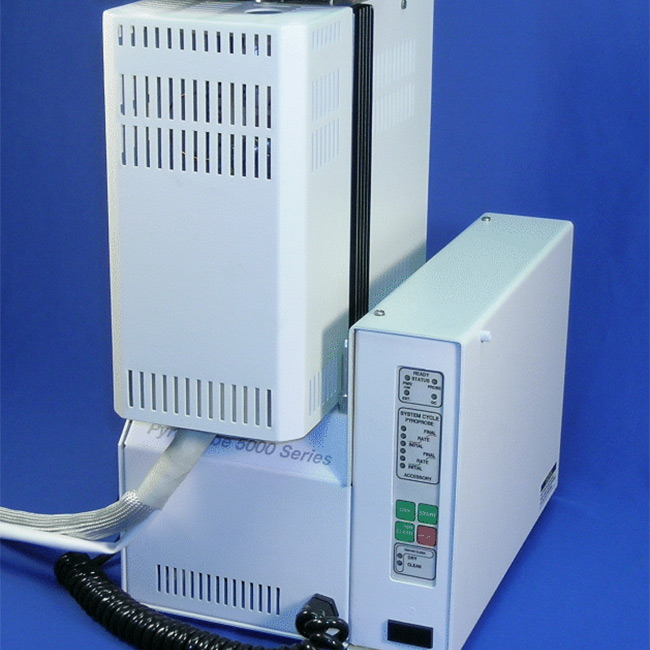 AS5250 pyrolysis autosamplers
Increase the throughput of your pyrolysis laboratory by using the AS5250 Pyroprobe® Autosampler. The AS5250 provides hands-free analysis of up to 44 samples and enhances operational capacity allowing unattended operation over a weekend or holiday period. Solid, viscous liquid and powder samples are analyzed directly, eliminating the need to perform lengthy sample extractions or derivatizations.
A patented heating method provides the flexibility to perform both high performance thermal desorption and pyrolysis on the same sample.
Microsoft Windows® compatible software facilitates method development and allows for standard operating procedures to be written for GLP/GMP compliance.
Features
Automated analysis of up to 44 samples with unlimited run capability per sample
Analysis of solids, viscous liquids, and powders
Thermal desorption, headspace, and pyrolysis capabilities
Install onto any gas chromatograph/GCMS directly or by heated transfer line
Programmable pyrolysis to 1300ºC in 1ºC increments
Pyrolysis heating rates from 0.01ºC/min to 20,000ºC/sec
Auto 'Clean' pyrolysis chamber function to prevent sample carry over
PC control through Windows XP/7/8
Pyrolysis autosampler with trapping facility
The 5250T offers all of the standard 5250 autosampler features and with the advantage of an integral trap that enables pyrolysis in reactant gas including oxygen, hydrogen, and air, and thermal desorption studies. It can also be used as a normal pyrolyser, bypassing the trap.
The autosampler can be used in the following modes:
| | |
| --- | --- |
| Pyrolysis direct to GC | Standard Py-GC or Py-GC/MS analysis |
| Pyrolysis with trapping | Low temperature work for thermal desorption and programmed heating rate pyrolysis |
| Reactant gas pyrolysis with trapping | Pyrolysis in reactive atmosphere like air or oxygen |
| Thermal Desorption | Analyse at pre-pyrolysis temperatures for volatiles & semi-volatiles |