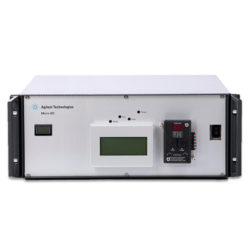 Micro gas analyser process systems
The Agilent 490-PRO micro gas analyser is designed for process control analyses including those applications requiring unattended, around-the-clock measurements. The system is available as a free standing unit or in a 19″ rack mounted chassis. Applications include natural gas analysis/calorific value determination, biogas, bulk and trace analysis of refinery gas, stack gas, trace analysis of sulphur, oxygenates, halogenates, fuel cell development, specialty gas production, and trace analysis of HCN.
System integration
The analyser is initially set up using an external computer and PROStation software. After method development, the method is run and calibrations performed and optimised. The method is then transferred to the system and the computer is disconnected.The on-board analyser data handling system takes over complete operation and control. Analyses can be started and stopped by the on-board method protocol or at the command of an external computer, such as a process measurement and control system. Raw or processed results are automatically uploaded to the process control computer via one of a variety of industry standard communication protocols including: MODBUS, TCP/IP, RS-232, RS-485, FTP/Webserver.
Laboratory and portable analysers
The system can be used in the laboratory, at-line, or on-line with up to four independent analytical channels. Fast, precise gas analysis is achieved in seconds, not minutes through the use of narrow-bore capillary, PLOT or micro-packed columns. Start-up is quick, easy and seamless with electronic data sheets to store operational history and the last method used for each analytical channel. An LCD Monitor can display measurement results during the process.
Rack mounted analysers
The 490 micro gas analyser is available with one or two independent analytical channels in 19″ rack mounted chassis that is compatible with standard process control rack systems. Sampling and sample conditioning devices can also be mounted within the housing. No flammable gases are used so the analyser can be used in environments where operational safety is critical. In addition, only small quantities of inert sample gas are used for analysis and monitoring.