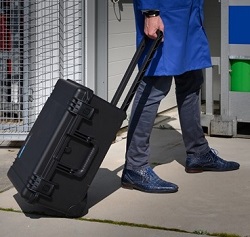 Micro gas analyser portable systems
With the Agilent 990 Mobile Micro GC, gas samples can be analysed wherever and whenever needed. The field case containing up to 4 GC channels provides fast, repeatable and lab quality results and is equipped with batteries and gas canisters for up to 16 hours of operation. The case also allows for the system to be operated with an external power source if needed and advanced charging starts as soon as the system is connected to external power.
Features
Portable, self-contained GC system with rugged field case
Onboard gas cylinders and rechargeable batteries with up to 16 hours of battery life
Optional wireless connection to a tablet or smartphone
Store full results on a mass storage device for post processing in the laboratory
View simplified results in full or 'true/false' mode for instant feedback
Small size and weight allows easy transport to field locations
Enhanced usability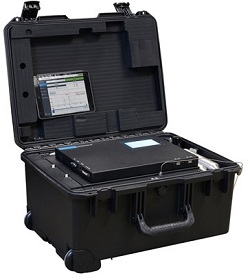 Industry standard Pelican field case ensures that your valuable equipment arrives in ready-to-go condition at the analysis site. The standard Pelican field case is configured with wheels and handle for easy transportation. The column modules can be swapped in minutes and are compatible with the laboratory version of the 990 micro GC
Wireless connectivity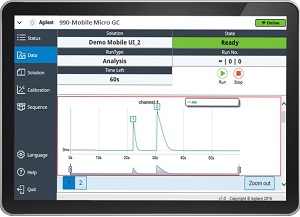 The optional mobile license provides ability to wirelessly connect via phone or tablet and eliminates the need to carry cables and a laptop. The interface allows the operator to quickly reference instrument status, start/stop runs, and analyse results as simplified results in full or 'true/false' mode for instant feedback.