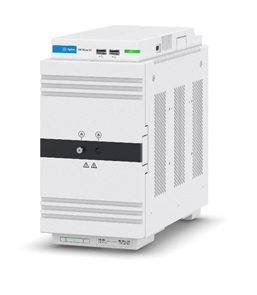 Micro gas analyser system
The 990 Micro GC provides combines innovative features with the quality and speed that are critical to gas analysis. It delivers actionable results in seconds using half the bench space and less than half the power of most traditional GCs. Each channel is a miniaturised GC with electronic gas control, injector, narrow-bore column, and detector for sensitive, efficient separations. The channels also feature independently controlled injection volume, oven temperature, and carrier gas thereby making reconfiguration simple.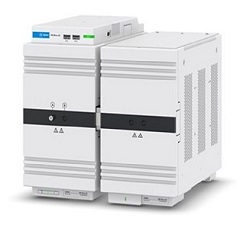 The basic 990 system can accommodate one or two channels. If the need arises to expand the system, a channel extension cabinet can be added so up to four channels can be used simultaneously.
Features
Fast, precise gas analysis in seconds across a variety of gas applications. Quickly reconfigure for any application
Small footprint and uses only 10% of power and gas compared to conventional laboratory GC
Flexibility to run in the lab, at-line or on-line with up to four independent analytical channels, each with pneumatics, injector, column and detector
Increase monitoring frequency through micro-electronic gas control with optional time-programmable backflush in order to inject samples while eliminating components that could foul the column and reduce lifetime
Quick and easy start up to get results and ruggedness demanded in the laboratory and in the field. The system can be moved from location to location with results obtained in minutes
Wide range of accessories and sample handling options
Micro-machined injector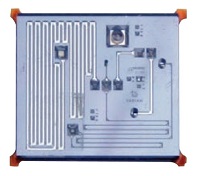 The silicon micro-machined injector has no moving parts to wear or break increasing dependability. Software selectable injection times cover a wide range of applications requirements. Optional backflush capability protects the analytical column from excessive wear and tear whilst the injector can be heated to 110 °C to eliminate discrimination of higher hydrocarbons for improved performance.
Micro-machined thermal conductivity detector
The small 200nl internal volume of the micro-machined TCD eliminates peak broadening, providing better data quality and easier quantitation. The lower detection limits range from 0.2 ppm for to 10 ppm depending on column and component.
Accessories
Stream selection valve
The 990 Micro GC can be used with a choice of stream selection valves to increase analytical flexibility. They are available as dead-end or flow-through types with automated stream selection. By eliminating the need to manually monitor and switch valves, they offer the analyst the capability to complete lengthy sequences or constant monitoring across many different streams. Additionally, the valves enable the analyst to accurately cross-reference data from multiple sample streams on the same GC. The stream selection valves can also be connected to a calibration and/or verification gas standard. Both the dead-end and flow-through valves offer 6, 10, 12, or 16 ports.
Touch screen
The optional 4.3″ wide screen provides a quick status overview of the instrument. A start/stop function is also available. The display is a useful addition to the 990 PRO system. After the 990 PRO has completed the analysis, results can be displayed on the screen until they are refreshed by the next run.
Genie membrane filter
The Genie membrane filter uses a semipermeable membrane to remove droplets and particles from the sample gas stream to ensure proper injector function for long-term reliable results. It is suitable for a wide range of sample concentrations from ppb up to percentage-level analysis, is fully inert, and compliant with calorific value determination methods. For dual gas streams, an option with two Genie membrane filters is available. The Genie filter can also be fitted with a rotameter for a quick check of the sample flow.
Syringe injection
Syringe injection enables the injection of gas samples via the optional inlet on the front of a 990 Micro GC. Samples can be introduced through a septum cap, or by using a luer-lock connection. Ideal for  laboratories with small sample amounts or different samples originating from various places.
Pressure reducers
For laboratories with a high sample line pressure, the pressure reducer provides a Micro GC with a sample at optimum pressure and flow rate. The Beswick pressure reducers are factory tuned to 0.7 bar (10.1 psi), and the needle valve flow is set at 20 mL/min. That means trouble-free compatibility with the Micro GC injector. The reducer is mounted on a bracket either with or without a Genie filter. Working range of the pressure reducer is between 0.5 bar (7.25 psi) and 200 bar (3000 psi).
Micro-gasifier
The Agilent Micro-Gasifier controls liquid petroleum gas (LPG) and liquefied natural gas (LNG) sample evaporations before introduction into the GC injector. High-pressure samples can also be reduced without creating cold spots, preventing sample discrimination.
More uptime
Plug-and-play simplicity makes it possible to replace modular channels in as little as 10 minutes. The allows onsite service repair of the column, injector, and detector.  Improved diagnostics and instrument intelligence keeps watch on system health and alerts the user to leaks and obtains critical information on instrument status, maintenance, and more.