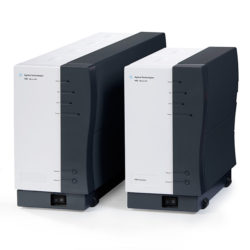 Micro gas analyser system
The Agilent 490 Micro gas analyser is a rugged, compact system that can be customised with options including column modules and optimised sample conditioning to achieve greater sensitivity and performance. The system arrives pre-configured, factory tested for the specific analysis If needs change, it can be easily reconfigured in the field for new applications in just minutes with the user installable plug and play GC channels. The small size and weight of the analyser makes it easy to carry between analysis sites in the field.
Features
Fast, precise gas analysis in seconds with narrow-bore capillary, PLOT or micro-packed columns to bring improved product quality and more exact product valuation to field applications
Flexibility to run in the lab, at-line or on-line with up to four independent analytical channels, each with pneumatics, injector, column and detector. Quickly reconfigure for any application
Increase monitoring frequency through micro-electronic gas control with optional time-programmable backflush in order to inject samples while eliminating components that could foul the column and reduce lifetime
Quick and easy start up to get results and ruggedness demanded in the laboratory and in the field. The system can be moved from location to location with results obtained in minutes
Powerful, yet easy-to-use Agilent OL EZChrom, EZChrom and EZChrom Elite software providing comprehensive system control, data acquisition and report generation. Or control the system from virtually anywhere using a PC and internet, with industry standard protocols such as TCP/IP
Micro-machined injector
The silicon micro-machined injector has no moving parts for high dependability while including the features you expect. Software selectable injection volumes from 1 µL to 10 µL cover a wide range of applications requirements. Optional backflush capability protects the analytical column from excessive wear and tear. The injector can be heated to 110 °C to eliminate discrimination of higher hydrocarbons for improved performance.
Micro-machined thermal conductivity detector
The small 200 nL internal volume of the micro-machined TCD eliminates peak broadening, providing better data quality and easier quantitation. The detection limit ranges from 1 ppm for capillary columns to 10 ppm for micro-packed columns (component dependent).