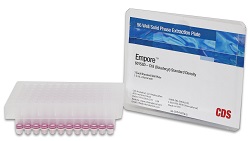 Empore solid phase extraction wellplates
Empore wellplates are designed for high throughput solid phase extraction (SPE) where 96 samples can be processed within a standard 8 row by 12 column plate format. One disk plate can replace four separate runs on a conventional SPE manifold that handles 24 individual cartridges per run. The 96 well format is ideal for sample preparation prior to LC/MS/MS or other high throughput analytical techniques.
Features
High separation efficiency through dense particle packing & uniform particle distribution
Efficient SPE with sorbent particles tightly held together within an inert PTFE matrix
Sorbent particles tightly enmeshed in PTFE that eliminates particle fines that plug frits
Fits standard 96-wellplate format
Suitable for sample preparation applications for bio-analytical and metabolite analysis protocols
Compatible with vacuum manifold and wellplate covers
Wellplate technology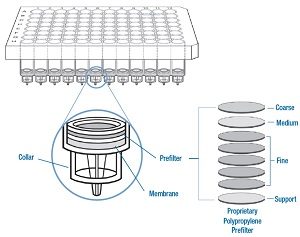 The small bed mass of sorbent in the wellplates allows for the use of smaller solvent volumes than with traditional packed bed SPE products and provide good target analyate recoveries, consistent performance, and clean extracts. Each well of the plate contains an Empore extraction disk membrane with a proprietary prefilter placed above. The prefilter aids in preventing particulates and macromolecules from reaching the underlying membrane and improves the flow of biological samples such as serum and plasma through the plate. The prefilter is composed of polypropylene microfiber layers of graded densities. Three different densities are used with the coarsest on top and the finest at the bottom. The top two microfiber layers are individual layers of material and the third microfiber layer, having the smallest effective pore size, is on the bottom of the prefilter and contains five individual layers of material. Efficient sample extraction can be achieved with elution in as little as 100μl using mobile phase or mobile phase compatible solutions that can be injected directly onto chromatographic systems.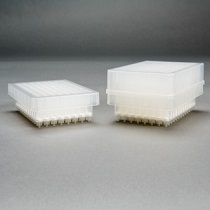 The standard 1.2ml sample plates are available as C8, C18, MPC (Mixed phase cation), and UR (Universal resin). The C8 and C18 bonded silica sorbents combine good retention capacity with high recoveries.  The MPC bonded silica plates contain both hydrophobic (C8) and strong cation exchange (benzene sulfonic acid) functionalities. This combination offers the potential to perform selective extractions of amine containing (basic) analytes or the ability to extract acidic and neutral analytes separately from basic analytes. The Universal Resin (UR) sorbent is a terpolymer based on styrenedivinylbenzene and designed to provide good retention of a wide range of analytes. A single reversed phase method can often be used to isolate and concentrate a variety of acidic, basic and neutral compounds that may reduce method development time. Some sorbents are also available in 2.5ml sample plates.