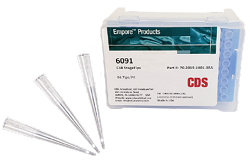 Empore StageTips
For almost 30 years, the Empore™ membrane has been the SPE product of choice to pack into micropipette tips for rapid, small-volume desalting and fractionation of peptides and proteins. Empore Solid Phase Extraction (SPE) micropipette StageTips are now available pre-packed with the Empore membrane and offer researchers a much-needed alternative to arduous and monotonous manual packing procedures.
Features
Applicable for protein and peptide desalting/fractionation applications
Chemically resistant to organic solvents plus acidic and basic conditions
Standardised packing to avoid variability from manual preparation
Mix and match 2 or more phases for up to 9 layers
Enhanced capacity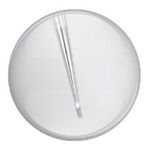 Empore StageTips are available with standard packing of two layers for increased protein and peptide capacity for desalting and fractionation applications with an option to mix and match additional phases up to 9 layers.
StageTips are available in a standard 200uL volume with 96 tips per pack or 960 tips per case (10 packs per case).
Protein sequence coverage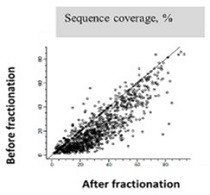 Salts and other materials used in protein or peptide preparation that are incompatible with MS systems are removed. Protein and peptide sequence coverage are improved with fractionation, even at high pH.
The tips utilise low binding, chemically resistant polypropylene micropipette suitable for use with all organic solvents and acidic and basic conditions needed for protein and peptide desalting and fractionation.
Reproducibility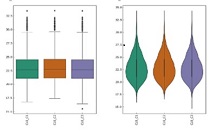 The fractionation of protein samples in the sub-microgram range can be limited due to sample loss during the fractionation process. In addition, any variability in manual preparation introduces variability in results.
The standardised packing methods of StageTips eliminates this problem ensuring high tip-to-tip reproducibility and results.
Applications
Using Empore C18 StageTips for high pH peptide fractionation in global proteomics Download
Evaluation of different Empore StageTips for proteomics applications Download