FMA-80 mercury analysers
Features
Results in under 2 minutes with detection limit 0.02 ppt
Single variable speed pump eliminating need for multi-pump calibration
Unique automatic reduction of sample volume after over-range analysis
Autoblank feature between high and low content samples
Integral dual gold trap amalgamator as standard
Choice of 36 or 89 position autosampler
Compliant with EPA 245.1, EPA 245.2, EPA 245.5, EPA 245.7, EPA 1631, EN 1483, EN 12338, EN 13806 and ISO 17852
Control terminals and data analysis
Features
Easy to use software with complete control over the analytical process
Easily identifiable data files with complete documentation
Automatic storage of data including zone temperatures and method profiles
Editable and flexible process parameters for individual samples
Choice of Terminal or PC control software
AutoBLANK feature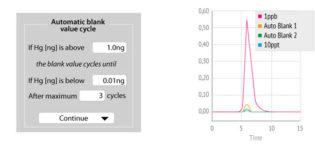 AutoBLANK prevents any possible interference between adjacent high and low level samples during continuous analyses. It is possible to select the number of cycles after a high concentration that is user defined and define a new blank level to be achieved before continuing with analyses. For instance, after 1 ppb and two automatic blanks, the FMA-80 is capable of measuring 10 ppt without any significant carry over effect.
Automatic reduction of sample volume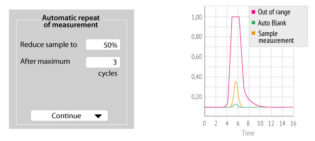 The FMA-80 series of instruments will automatically reduce the sample volume and reanalyse if a high concentration sample is analysed that is above the dynamic range. This can be repeated for a user defined number of cycles before proceeding to the next sample.
Analytical performance
Accuracy
Precision